The reason given by FIBA ​​is because the American basketball team has played stably in important tournaments recently.
According to the latest rankings announced by FIBA ​​(World Basketball Federation) yesterday, the US team suddenly rose one place to take the leading position, pushing Spain to second place. This is quite a surprise because the US did not play really well in the recent Basketball World Cup .
They only finished FIBA ​​World Cup 2023 in 4th place, and failed in 3 of the last 4 matches (against Lithuania, Germany and Canada).
The most feasible reason that basketball fans around the world think of is that the US team benefits from Spain's poor performance at this tournament. Without 2019 FIBA ​​World Cup MVP – Ricky Rubio due to mental health reasons, Spain did not play well and ended its journey in 9th place.
However, according to FIBA's announcement, they believe that the US team has " maintained stability in major tournaments during the last 3 summers ."
This has raised many questions with the basketball community around the world. The notable, and only, achievement that the "Country of the United States" team has had in the last 3 summers is the Olympic gold medal in 2021.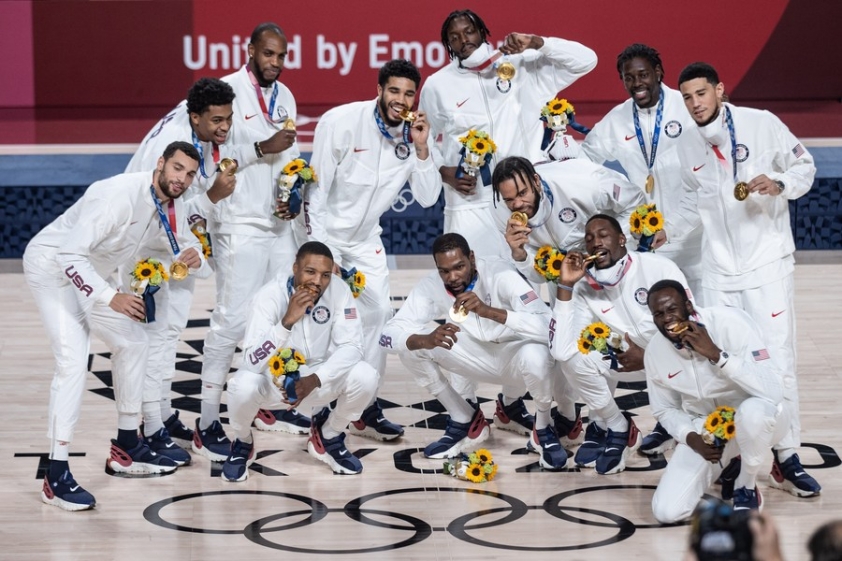 The US basketball team won the gold medal at the 2020 Tokyo Olympics (Photo: Xinhua)
In the summer of 2022, the US sends a "strange" squad to attend the FIBA ​​AmeriCup, with the two most prominent faces being Patrick McCaw – who plays a reserve role on many NBA teams but also has 3 championship rings, and Norris Cole – a player with 2 NBA crowns with the Miami Heat. The US team won 3rd place overall in this tournament.
Until this summer, at the world's most prestigious basketball tournament, the US was only ranked fourth, behind Germany, Serbia and Canada.
Also in FIBA's latest rankings, with the FIBA ​​World Cup 2023 championship , Germany has increased 8 places, climbing to 3rd place in the world. Behind Germany are Australia , Serbia and Canada. The team with the most advancement is South Sudan – "jumping" from position 63 to position 31 – after impressive performances at this year's Basketball World Cup.
Our Vietnamese basketball team dropped 1 place, falling to 134th place in the world.
Latest FIBA ​​rankings (top 10)