Madonna , Lady Gaga and many world famous stars make the audience shake their heads with their outrageous actions on stage.
Madonna "wandered" on stage
31 years ago, the whole world was stunned when they witnessed the performance of Like A Virgin as part of Madonna's Blond Ambition Tour. In this performance, Madonna's extremely famous hit Like A Virgin was remixed with a different sound from the original.
The entire stage was covered with a giant velvet curtain, the spotlight focused on a red bed placed right in the middle of the stage with Madonna wearing the "legendary" corset designed by Jean Paul Gautlier, flanked by 2 male dancers but wearing yellow bras. It all evokes a dark feeling.
Madonna performed while writhing violently all over the bed. Her movements were unmistakably simulating the "self-treatment" scene, and of course it was being performed live on stage. . The audience below certainly couldn't help but blush and be stunned at the boldness and recklessness happening before their eyes!
The more the show performed, the more intimate scenes between Madonna and the dancers became, causing a huge wave of protest. Until now in 2021, no female artist has been able to deliver a bold performance similar to the way Madonna did 31 years ago.
Cardi B placed a giant chair in the male fan's face
In 2019, famous female rapper Cardi B performed at the Vintage Pride Washington event. With her usual sexy and seductive style, Cardi B and her dancers had no difficulty stirring up the stage with the rap song Money.
In a climactic moment, she walked up to a fan and… used this "unlucky" male spectator's face as a place to… grab her butt and lower her "seat" straight up. It is known that this is an exciting dance with the main tool being the sexy buttocks, later named the Twerk dance.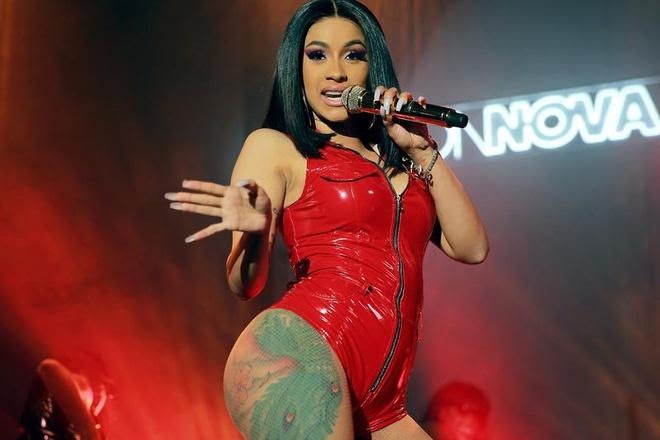 Even scarier is that the super daring twerk on the fan's face was also re-posted by Cardi B herself on her personal Instagram page, considered a proud memory. Many controversies arose that Cardi B could not control her behavior, but many people thought that the audience looked like she was enjoying herself quite a bit.
Sophia Urista ( Brass Against ) urinated on the audience's faces
Recently, the band Brass Against held a concert called Welcome To RockVille. Worth mentioning, this event has become an obsession, leaving many audiences around the world "shocked" when Sophia Urista calmly urinated in the audience's faces right on stage.
Accordingly, while performing a cover of the song Wake Up (Rage Against The Machine), Sophia suddenly revealed that she had to pee, and even openly wanted an audience member to help her right at this moment. Right after that, a male audience member came on stage and lay down, volunteering to help her "resolve her sadness". Thinking that this was just a joke, thousands of spectators were shocked when Sophia took off her pants and urinated in the face of the male spectator right in the middle of the stage, saying to consider this as a performance. to act.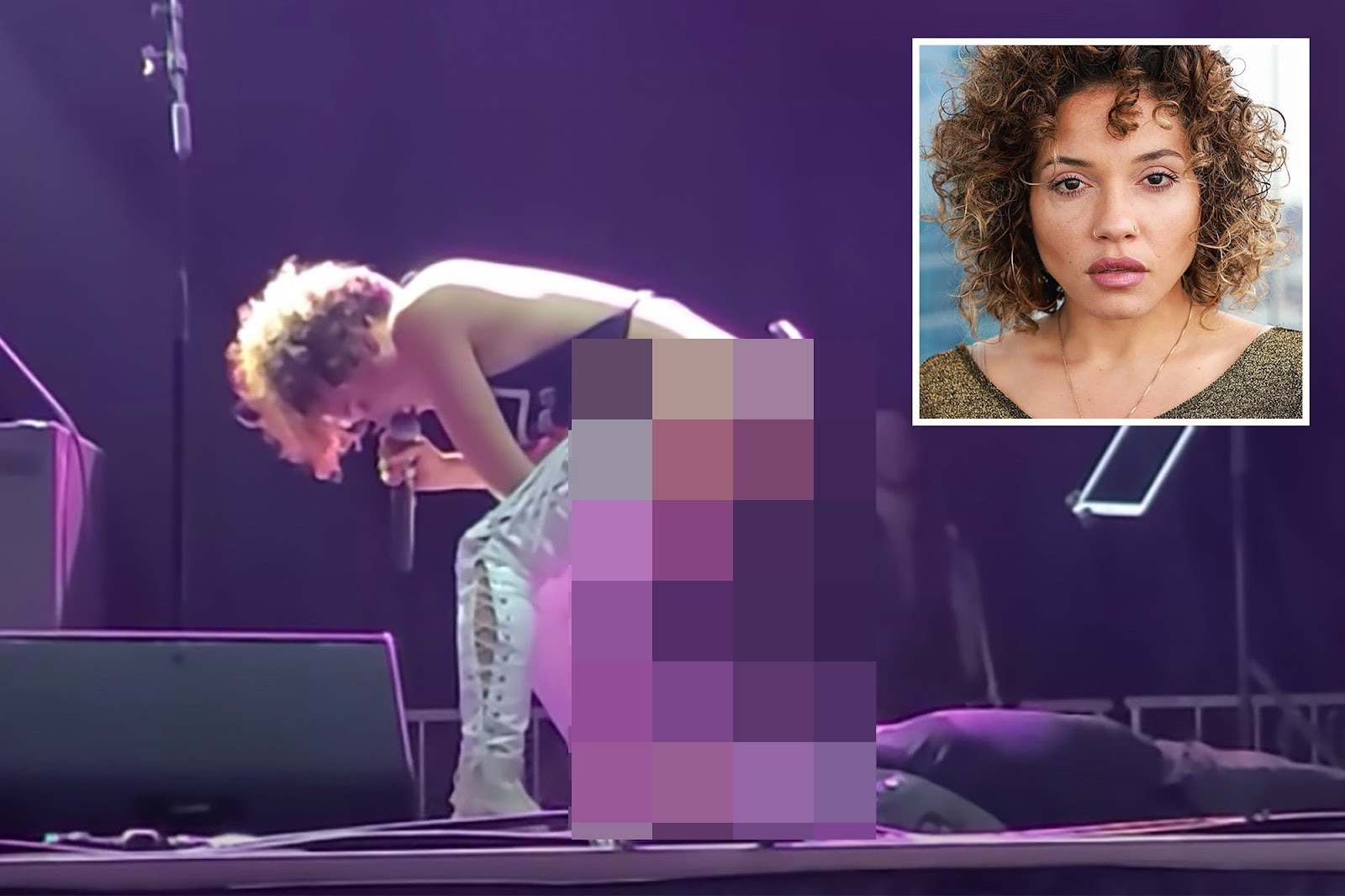 Currently this scary performance is a fever all over the internet. No matter how dreamy and open-minded, the audience cannot understand and accept Sophia's behavior. Although this singer spoke up to explain, her explanation did not satisfy the audience.
Lady Gaga and the "vomit stage"
Before Sophia Urista's performance of urinating in the audience's face, there were also "horror" performances, even considered the most unhygienic in the world from Lady Gaga. Accordingly, in 2014, Lady Gaga appeared at the SXSW Festival music festival. Here, she performed the song Swine, a composition about being raped and sexually assaulted.
Notably, the female singer asked a contemporary artist from London – Millie Brown – to accompany her in this performance. Millie Brown then drank a glowing green liquid. What gave many people goosebumps was that she… puked straight on Lady Gaga while the female singer was playing the drums. This vomiting lasted for a while and Lady Gaga didn't seem to be avoiding it, causing the whole audience to vomit. The audience present was "severely shocked".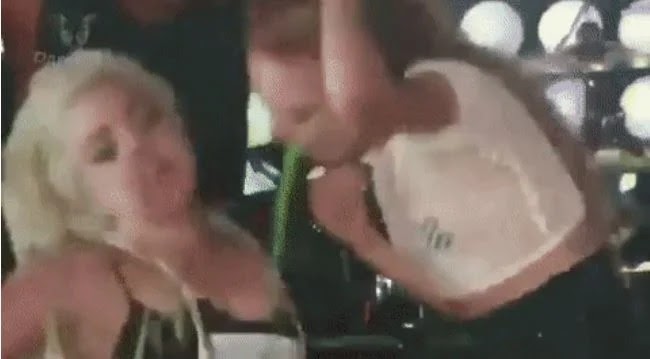 The climax was when Lady Gaga pulled Millie Brown onto a high platform to simulate horseback riding. At this time, Millie drank the black solution and continued to vomit a black liquid onto Lady Gaga. To this day, many people still do not understand the meaning of this strange and unhygienic performance of the female singer.
Miley Cyrus is "sexy" on stage
Another stage that caused a lot of controversy by US-UK stars was Miley Cyrus' provocative "sexual" performance. Accordingly, at the VMA awards ceremony in 2013, she and male singer Robin Thicke had a collaboration performance together. Famous as the queen of rebellion, Miley once again rebelled on the VMA stage when she changed her sexy outfit to reveal another outfit with less fabric right on stage.
And Miley's disruption doesn't stop there. She continuously made suggestive gestures, choreography, and shaking that made the audience present extremely embarrassed and uncomfortable. Even a series of other famous stars who watched it on television or other media were surprised and were judged as no different from a cheap striptease.
Artists often have a lot of creative , sometimes "crazy" ideas to create lifelong moments. However, no matter how bold and creative it is, respecting the audience and promoting civility is still the most basic thing needed. Especially when those performances come from great artists, performed on a big stage with millions of followers, including many children.